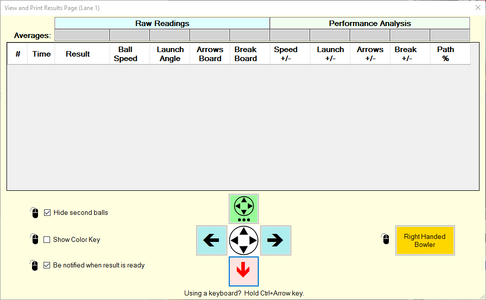 Purpose
The main purpose of this page is to display a table of ball measurements (Raw Readings columns) along with automatic consistency analyses (Performance Analysis columns) and corresponding session averages.
Main article: Results Table
A secondary purpose is to provide quick access to commonly used options.
| Button | Action |
| --- | --- |
| Up | More actions including clearing or printing the table. |
| Left | Previous page. |
| Right | Next page. |
| Down | Close the page and return to live mode. |
Checkboxes
Hide second balls
By default all throws are shown as rows in the table. Because Strike Seeker is mainly about strikes, hiding the second balls (when a strike is not possible) can make the table easier to read.
All shots are saved, this option just hides them in the table on this page and in the print out.
Show Color Key
Many columns are color coded and the colors mean different things in different columns. Showing the color key will add several rows at the bottom of the table that explain the color coding for each column.
The color key will also appear in print outs and e-mailed results.
Be notified when result is ready
Strike Seeker is always monitoring the lane and is always ready to track the next ball. However the pin reading requires additional time for the pins to reset and may not be completed before the next ball is thrown. This may lead to the result from the previous shot not being shown in the table until two shots later. It will still be correct after two subsequent shots but it may be confusing to watch as the table fills in.
Check this box to make sure that the pin reading is done before throwing the next ball to avoid confusion.
If sounds are enabled a voice will announce that you may throw the next ball. If sounds are not enabled then a notification box will appear at the bottom right of the screen announcing that it is OK to throw the next ball.
Buttons
Right/Left Handed Bowler
This button toggles between left and right handed bowlers when no session has been started.
If a session has been started then the handedness of the bowler will be taken from the bowler's profile saved on the Manage Bowlers page. In this case the button will be disabled.
Changing between right and left handed bowlers reverses the sense of the following readings:
Board number at the arrows.
Board number at the break point.
Launch angle.
Community content is available under
CC-BY-SA
unless otherwise noted.